Cleansing Facial Biomask in sachet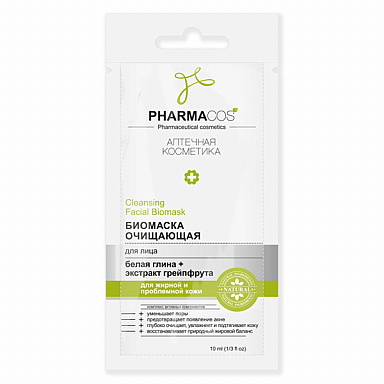 White clay + grapefruit extract

Intensively cleanses pores. White clay enriches surface skin layers with microelements, cleansing pores of dirts and excess sebum intensively and deeply.

Prevents the appearance of acne. The complex Trikenol™ regulates sebaceous glands, improving skin appearance and preventing appearance of acne.

Nourishes skin cells. Grapefruit extract nourishes skin cells, saturating them with vitamins and improving complexion.
Brend: Vitex
Volume: 10 ml
Barcode: Aqua (Water), Kaolin, Cetearyl Alcohol, Caprylic/Capric Triglyceride, Glycerin, Glyceryl Stearate, Propylheptyl Caprylate, Cocos Nucifera (Coconut) Oil, Ceteareth-25, Panthenol, Stearic Acid, Hydroxyethyl Urea, Citrus Paradisi (Grapefruit) Fruit Extract, Methylpropanediol, Polysorbate 80, Leptospermone, Salicylic Acid, Isoleptospermone, Flavesone, Salix Alba (Willow) Bark Extract, Tapioca Starch, Polymethylsilsesquioxane, Betaine, Methylparaben, Allantoin, Parfum (Fragrance), Propylparaben, 2-Bromo-2-Nitropropane-1,3-Diol, Citric Acid, Limonene, Linalool
Composition: Aqua (Water), Kaolin, Cetearyl Alcohol, Caprylic/Capric Triglyceride, Glycerin, Glyceryl Stearate, Propylheptyl Caprylate, Cocos Nucifera (Coconut) Oil, Ceteareth-25, Panthenol, Stearic Acid, Hydroxyethyl Urea, Citrus Paradisi (Grapefruit) Fruit Extract, Methylpropanediol, Polysorbate 80, Leptospermone, Salicylic Acid, Isoleptospermone, Flavesone, Salix Alba (Willow) Bark Extract, Tapioca Starch, Polymethylsilsesquioxane, Betaine, Methylparaben, Allantoin, Parfum (Fragrance), Propylparaben, 2-Bromo-2-Nitropropane-1,3-Diol, Citric Acid, Limonene, Linalool Aqua (Water), Kaolin, Cetearyl Alcohol, Caprylic/Capric Triglyceride, Glycerin, Glyceryl Stearate, Propylheptyl Caprylate, Cocos Nucifera (Coconut) Oil, Ceteareth-25, Panthenol, Stearic Acid, Hydroxyethyl Urea, Citrus Paradisi (Grapefruit) Fruit Extract, Methylpropanediol, Polysorbate 80, Leptospermone, Salicylic Acid, Isoleptospermone, Flavesone, Salix Alba (Willow) Bark Extract, Tapioca Starch, Polymethylsilsesquioxane, Betaine, Methylparaben, Allantoin, Parfum (Fragrance), Propylparaben, 2-Bromo-2-Nitropropane-1,3-Diol, Citric Acid, Limonene, Linalool
Buy