Eye-mask elixir ANTI-AGING "Ice cube" effect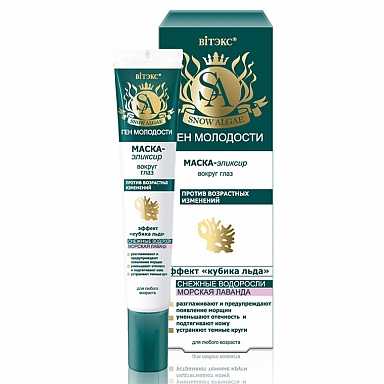 SNOW ALGAE
SEA LAVENDER


smooth out and prevent the appearance of wrinkles
reduce puffiness and tighten the skin
eliminate dark circles
Eye-around skin is delicate and particularly sensitive. This cooling eye-mask elixir carefully and delicately cares for eyelid skin, eliminating the signs of fatigue.
This eye-mask elixir has an effect of "ice cube" and when applied to the skin produces a pleasant "cooling" effect, which intensifies blood circulation: the skin begins to "breathe", improves metabolism, and reduces puffiness and dark circles under the eyes.
This eye-mask elixir has regenerating properties, allows the thin skin around eyes to regain its vitality and look perfect.
Snow algae
and sea lavender
combine their effort in fighting age-related changes in eye-around skin: reduction of wrinkles, lighten up dark circles under the eyes, and enhance the skin tone.
Snow algae extract
is a unique product for prolonging biological youth of your skin, which activates the "youth gene" and acts at the cellular level:
accelerates cell renewal by stimulating the production of collagen and new young cells, smoothes out wrinkles *;
activates the longevity Klotho gene, which increases the longevity of skin cells and slows down the aging process *;
boosts microcirculation, which is the cause of dark circles under the eyes.
* Proven by Mibelle Biochemistry (Switzerland)
Sea lavender extract
nourishes and moisturizes the skin, stimulates the synthesis of hyaluronic acid, which contributes to tightening and smoothing the skin, strengthens the skin's protective mechanisms.
Description: apply the eye — mask elixir to cleansed eyelid skin for 5-10 minutes. Carefully remove the remains with a cotton pad. Do not rinse!
Brend: Vitex
Volume: 20 ml
Barcode: 4810153023384
Buy