Gum Protection and Strengthening Toothpaste-Balm with Hyaluronic Acid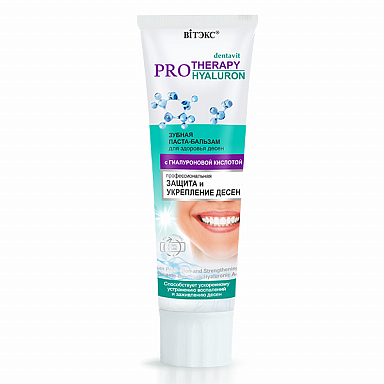 Promotes accelerated elimination of inflammation and gum healing
Indicated for prevention:
• bleeding gums
• periodontal tissue inflammation
• mucosal damage, including after dental procedures
• deterioration of the gums due to age and / or lack of hyaluronic acid
Toothpaste-balm combines the excellent cleansing properties of toothpaste and the healing effect of a balm for gums. Thanks to hyaluronic acid and an antiseptic phytocomplex based on oak and calamus bark, the drug has an anti-inflammatory, antimicrobial and healing effect, reduces the risk of periodontal disease, promotes rapid healing and strengthening of gums, including after dental procedures.
Direction: brush your teeth for 2-3 min, rinse your mouth. Do not swallow! It is recommended to brush your teeth at least 2 times a day. For adults only.
Brend: Vitex
Volume: 85 g
Barcode: 4810153031662
Composition: Aqua (Water), Sorbitol, Hydrated Silica, Sodium Lauryl Sulfate, Aroma (Flavor), PVM/MA Copolymer, Tetrasodium Pyrophosphate, PEG-32, Cellulose Gum, Titanium Dioxide, Quercus Robur (Oak) Bark Extract, Sodium Fluoride, Triclosan, Methylparaben, Sodium Hydroxide, Xanthan Gum, Acorus Calamus (Sweet Flag) Extract, Sodium Saccharin, Sodium Hyaluronate, Propylparaben



Buy