Tooth Enamel Remineralization Oral Rinse for Hypersensitive Teeth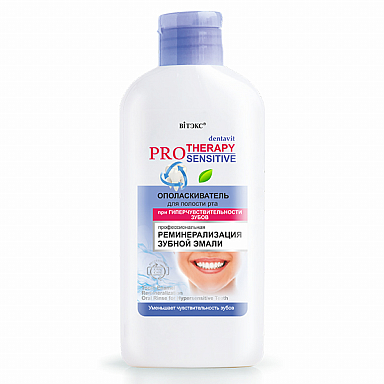 Decreases tooth sensitivity
Penetrating into inaccessible areas of the oral cavity, the rinse agent significantly improves the quality of dental hygiene, and a special complex of active ingredients significantly reduces tooth hypersensitivity, provides prevention of caries and bleeding gums, and also gives fresh breath for a long time.
• Potassium nitrate quickly and for a long period reduces tooth sensitivity.
• Active fluoride strengthens enamel, protects against caries and tartar, and has an antimicrobial effect.
Directions
: after brushing your teeth, rinse your mouth with rinse aid for 5-10 sec. It is recommended to use after each meal. Do not swallow. For adults only.
Brend: Vitex
Volume: 285 ml
Barcode: 4810153031693
Composition: Aqua (Water), Sorbitol, Potassium Nitrate, Glycerin, PEG-40 Hydrogenated Castor Oil, Aroma (Flavor), Sodium Fluoride, Phenoxyethanol, Methylparaben, Ethylparaben, Propylparaben, Panthenol, Sodium Saccharin, 2-Bromo-2-Nitropropane-1,3-Diol, Benzyl Alcohol, Eugenol, Limonene


Buy