Tooth Enamel Remineralization Toothpaste for Sensitive Teeth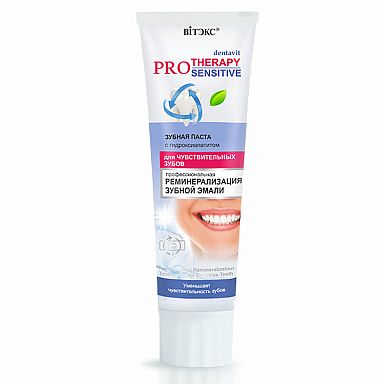 Decreases tooth sensitivity
The active formula of the paste is based on a complex of modern effective components that strengthen the enamel and protect it from erosion, normalize the microflora balance in the oral cavity, improve the condition of the gums, and significantly reduce tooth sensitivity.
• Hydroxyapatite, like a filling, fills microdamages of tooth enamel and "seals" them, reliably protecting from caries.
• Potassium nitrate reduces the painful sensitivity of teeth to cold, hot, sweet, sour.
• Chitosan* inhibits the growth of bacteria that cause tooth decay.
• Active fluoride (1400 ppm) and sodium pyrophosphate protect against tooth decay and tartar formation.
Toothpaste has a low abrasiveness, therefore it is recommended for increased tooth sensitivity and enamel defects.
*Proven by Clariant, Germany.
Directions: brush your teeth for 2-3 minutes, rinse your mouth. Do not swallow! It is recommended to brush your teeth at least 2 times a day. For adults only.
Brend: Vitex
Volume: 85 g
Barcode: 4810153031686
Composition: Aqua (Water), Sorbitol, Hydrated Silica, Potassium Nitrate, Hydroxyapatite, Sodium Lauroyl Sarcosinate, Sodium Monofluorophosphate, Aroma (Flavor), PEG-32, Poloxamer 407, Cellulose Gum, Tetrasodium Pyrophosphate, Titanium Dioxide, Methylparaben, Xanthan Gum, Sodium Saccharin, Allantoin, Propylparaben, Chitosan Succinamide, Benzyl Alcohol, Limonene


Buy