BABY BOOM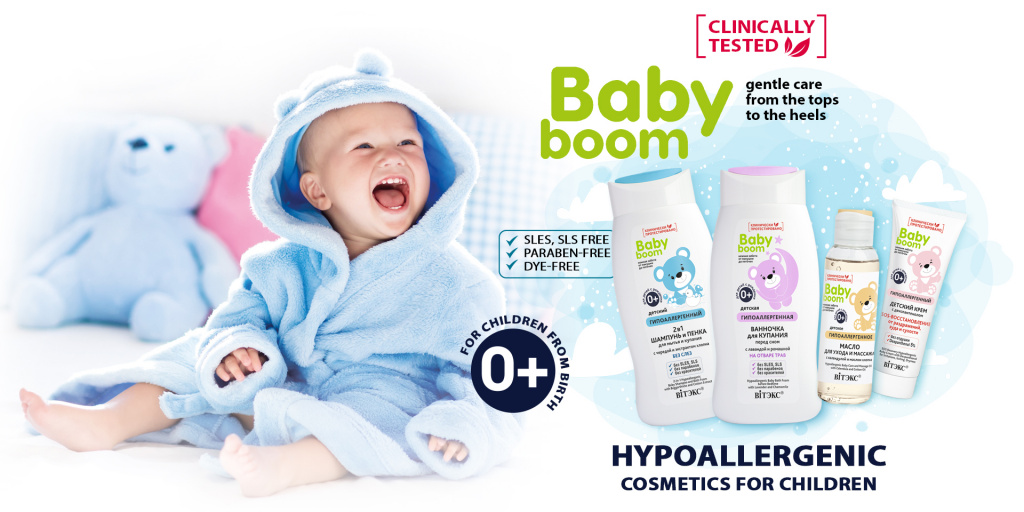 HYPOALLERGENIC COSMETICS FOR CHILDREN
FOR CHILDREN FROM BIRTH 0+
gentle care from head to toe
CLINICALLY TESTED
NOT TESTED ON ANIMALS
without SLES, SLS

paraben free
without dyes
Your beloved baby needs tenderness, affection and proper care, so we strive to give him the best that nature and modern science give. In VITEX science center, especially for children from birth, we have created a line of hypoallergenic cosmetics BABY BOOM. During the creation of the line, the most stringent requirements were observed, which are presented by pediatricians, scientists and caring parents to children's cosmetics.
EFFICIENCY
Effective formulas and quick, visible results are the main things we focus on when creating cosmetics.
HYPOALLERGENCY
All BABY BOOM products are hypoallergenic, as proven in clinical studies under the close supervision of dermatologists.
NATURAL AND SAFE
For the production of BABY BOOM line products, certified natural ingredients are used, as well as extracts of aromatic and healing herbs produced in our own subsidiary farm. The products of the line do not use SLES, SLS, parabens, dyes, silicones and mineral oils.
SCIENCE and ADVANCED TECHNOLOGY
When developing formulas, the latest results of scientific research and discoveries in the field of biochemistry are used, world achievements and advanced technologies are applied in the development of children's cosmetics.
ETHICS
The products of the line are not tested on animals; alternative methods of testing products for safety are used.