LuxCare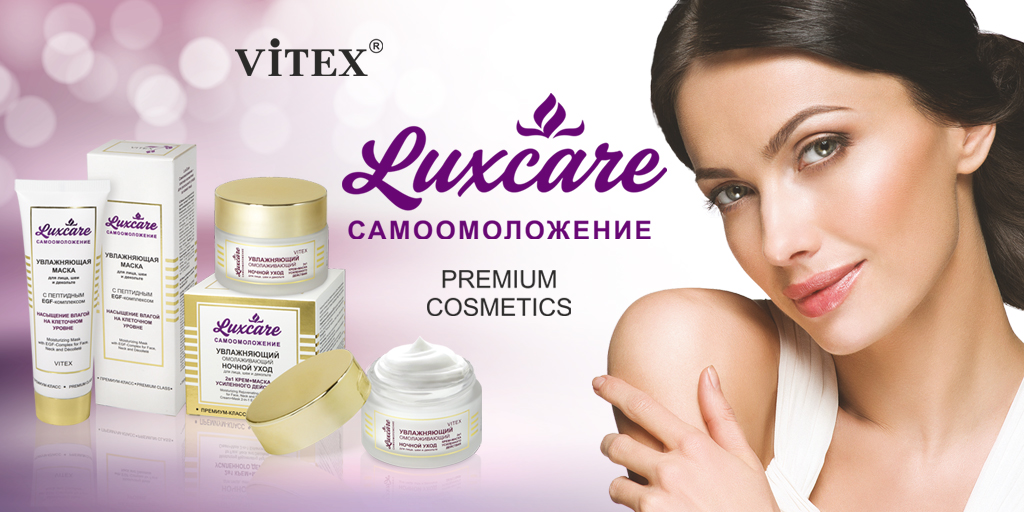 The innovative unique strong cocktail of bioactive molecules — Epidermal Growth Factor (EGF) - a genuine breakthrough in the field of skin chronobiology!
As known, human youth is determined by young and mature cells ratio, and it is epidermal growth factor, which allows reproducing young cells and suppressing aging. EGF is contained in every human's body since birth, but it is gradually disappears during life. Lack of EGF begins to occur at the ages of 30 to 40, when visible signs of aging appear on the skin. With aging skin needs in EGF are increased, and at the age of 50-60 the use of products with EGF is extremely necessary.
EGF influences resource of cells youth, delays aging at the genic level, promotes activity and growth of new young cells and starts skin self-regeneration from the inside, opening the way for healthy and full of energy cells. The skin supports formation and maturation of new — young, strong and active — cells.
Exclusive line LuxCare Self-Rejuvenation of premium cosmetic products activates simultaneously 11 factors of skin beauty:
Skin self-rejuvenation at the genic level;
Increasing of skin elasticity and tightness;
Regeneration of firmness of all skin layers;
Reduction of wrinkles;
Smoothing of skin microrelief;
Radiant even complexion;
Reduction of dark spots;
Visible renewal and regeneration of cells;
Intensive moisture;
Increasing of synthesis of collagen and hyaluronic acid;
Long lasting youth keeping.
Synergic influence of EGF and red alga extract, derived from ocean waters near Canada, Chile and Mexico, helps revitalize stress-susceptible skin, visibly increases skin tightness and elasticity, and brings back its radiance.
Active components effectively restore energy and antioxidant potentials of skin cells and perfectly rejuvenate skin.
Thanks to the effect of strong cocktail of bioactive molecules you can see and feel your skin transformation: young, healthy, beautiful and radiant skin day by day! Reprogram time — present youth yourself!
Active components
BIOPLACENTA (Epidermal Growth Factor) — a cocktail of 5 growth factors, activates 11 beauty factors.
Red Algae restore tired skin, reduce pores and wrinkles, making skin velvety and softer.
SQUALANE rejuvenates, reduces wrinkles, penetrating into skin, softens and moisturizes skin.
FUCOGEL provides intense long-lasting moisture and improves skin turgor.
SHADOWNYL promotes reducing of dark circles and eye puffiness, refreshes skin around eyes.
EASYLIANCE provides skin an instant smoothing and lifting effect.
HYALURONIC ACID supports water balance and smooths the skin, as a result superficial wrinkles are removed, and deep wrinkles become less distinct.
GLYCOLIC ACID evens out complexion, activates the production of collagen and elastin and improves cell renewal.
VITAMINS E and PP promote cell regeneration and renewal, preventing skin aging and keeping and supporting its beauty.
GINKGO BILOBA EXTRACT provides antioxidant skin protection, activates the processes of cellular metabolism and prevents premature cell aging.
ANGELICA, WHITE TEA and ORANGE BLOSSOM DISTILLATES soften and smooth skin, moisturize and tone up, making skin elastic and even.
GRAPE SEED, PEACH and HAZELNUT OILS restore lipid balance, provide intensive nourishment and soothe the skin, preventing its irritation.