PURE SYSTEM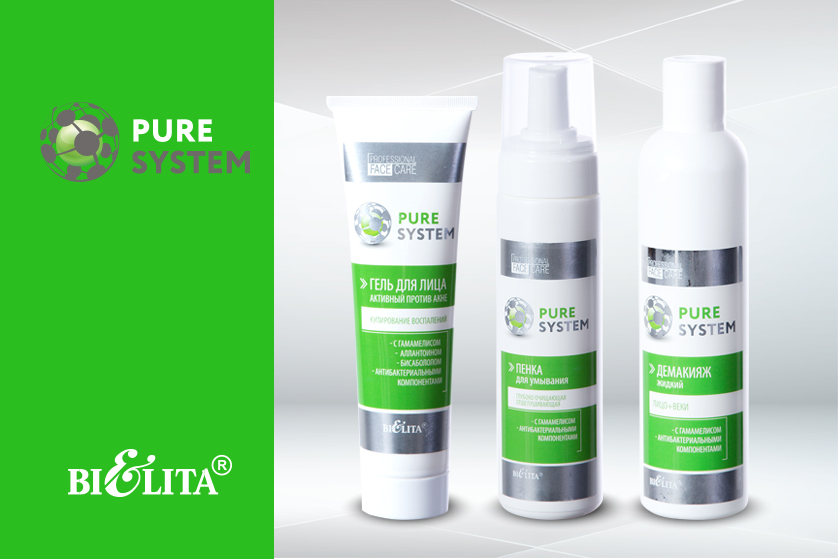 Problem-prone skin… oily sheen, enlarged pores, acne comedonicaform of seborrhea. Modern cosmetologists reckon seborrhea amongone of the most common and serious problems of the 21st century, in the recent years this problem develops not only in young age, but as well asin older age in addition to wrinkles and age pigmentation. The main reasons stimulating the rise of seborrhea are overproduction of sebum and follicular hyperkeratosis, associated with the bacterial flora and following inflammatory process.
Therefore, an integrated approach should be appliedin seborrhea treatment and both methods of modern medicine and cosmetologybe used.
Program "Immune defense" of"Pure System" Line — is patented compounds (components), complex action, and individual attention.
The newest line of professional products is designed on the latest scientific achievements in the complex treatment of acne. The products contain carefully selected ingredients and effect on the pathogenesis of acnein an integrated manner, they are dermatologically approved and proved their effectiveness in independent laboratory and clinical trials.
Due to the synergistic effects of the ingredients, the products have normalizing, sebo-regulating and soothing effects allowing to remove the inflammation and aggravation of acne. The microreliefimproves, the skin color and tone evens, the barrier function of the skin and cellular immunityrestore.
Products line PURE SYSTEM