ULTRA LIFT OLIVE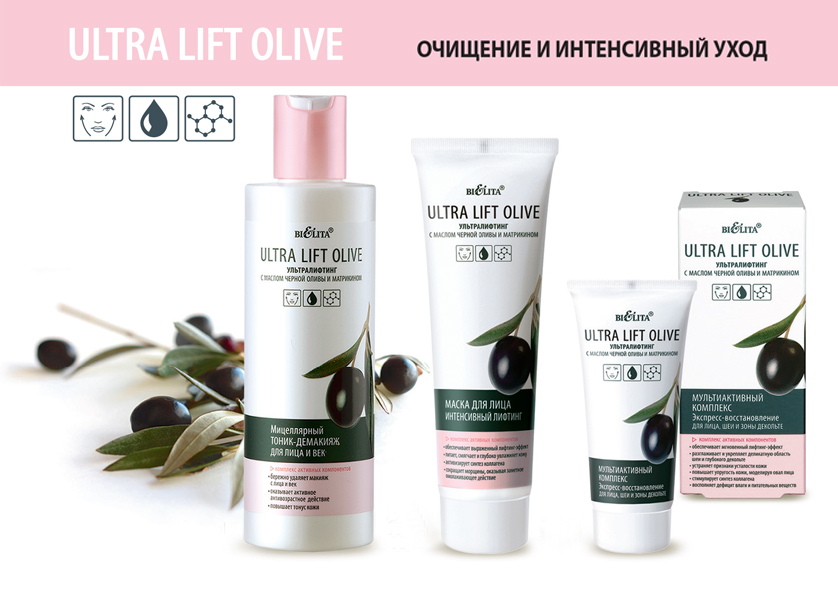 Every woman wants to keep her beauty and youth as long as possible! Slowing down the signs of aging requires appropriate skin care:
cleansing and tonification in the morning and evening;
the use of day or night cream for moisturization and nourishment;
the use of serums or correctors to look after the tender skin around the eyes and mouth;
a mask once or twice a week for deeper nutrition and moisturization.
After studying the age-specific skin peculiarities of women over 45 and 55, the Belita Research Center developed the
ULTRA LIFT OLIVE cosmetics line
based on black olive oil and matrikine, a rejuvenating peptide.
ACTIVE INGREDIENTSBlack olive oil
: an indispensable skin care product. The oil saturates skin with nutrients and restores the hydrolipidic layer of epidermis, making your face look fresh and refreshed. The powerful antioxidant action of black olive oil prevents skin damage by free radicals. When used regularly, it can prevent the appearance of wrinkles and smooth existing ones.
Matrikine
is an active signal peptide, which provides comprehensive skin rejuvenation and repair:
- provides a visible 28%* lift
- stimulate skin's own collagen production by 105%*
- increases hyaluronic acid action by 174%*
Matrikine helps three-dimensional reduction of wrinkles:
- reduces wrinkles by 31%*
- reduces the area occupied by the deep wrinkles by 28.5%*
- reduces wrinkle depth by 16.3%*
* effect achieved after two months of daily use; cosmetic properties certified by Sederma, France
Products line ULTRA LIFT OLIVE