SOS Restoration Nutritive Facial Cream with Cloudberry Seed Oil & Vitamin C for Age 25+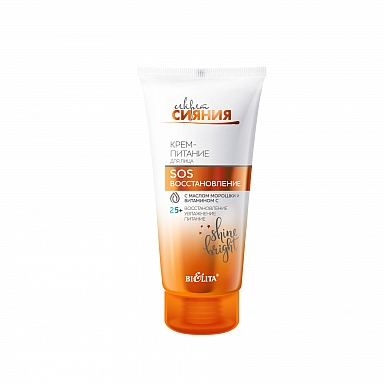 The Emergency Recovery Nutritive Facial Cream is an express remedy for skin that requires special care. A complex of active ingredients included in the cream acts on skin on several levels:
instantly moisturizes dehydrated skin, eliminating the feeling of dryness and tightness,
actively regenerates and deeply nourishes, making your skin glow,
protects against the negative effects of the weather and environment,
reduces skin flaking,
provides a feeling of comfort.
A complex of vegetable oils –
avocado oil, almond oil, hazelnut oil
and
shea butter
– instantly improves skin condition, provides required skin cell nutrition, immediately softens skin and actively replenishes its moisture balance.
Allantoin
has a pronounced effect on skin cell regeneration, and provides complete care for chapped and cracked skin, creating a feeling of comfort.
Emergency Recovery Nutritive Cream: the beauty, health and glow of your skin!
Brend: Belita
Volume: 50 ml
Barcode: 4810151022983
Buy