Belita Young
Are you young, energetic and always willing to look perfect? Our BELITA YOUNG cosmetic line was designed for you.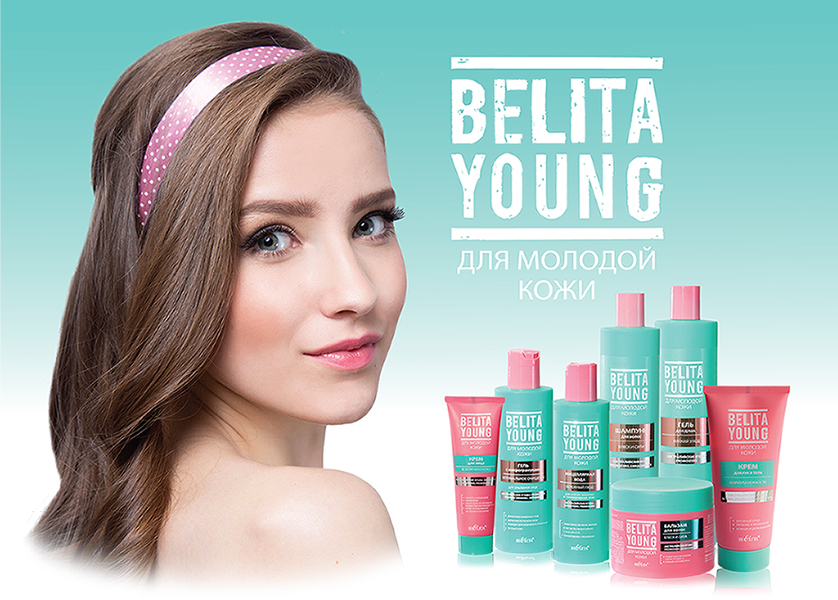 BELITA YOUNG includes cosmetic products required for daily facial and body care. The well-balanced formulas not only help gently cleanse your face, body and hair, but provide all-around protection from adverse environmental factors and hydrates your skin. The crisp, bold fragrance keeps your spirits up throughout the day.
Belita Young active ingredients:
WildBerry Harvest ™, a unique extract from specially selected exotic Australian berries that provides superb nourishment and lasting hydration for young skin. The complex possesses an antioxidant effect, protecting skin from the destructive action of free radicals, and giving it a shiny, healthy look.
Promoizers™-, a special component of the natural moisturizing factor (NMF)-, is capable of fixing and retaining external moisture received with air, water treatments and cosmetics, thus maintaining natural skin hydration levels.
Еnnacomplex™-, the patented complex that includes a mix of white nettle, fir needle, burdock, chamomile, rosemary, ivy, arnica, watercress and garlic extracts. Promotes the activity and speeds up the growth of hair roots, and hydrates scalp.
Young skin requires gentle and effective care to remain clean and beautiful
At a young age, skin has strong regenerative and adaptive properties. Normal-type skin looks virtually perfect: an even tone, smooth, velvety, no irritation, no pimples or erythema. Women with that kind of skin seldom pause to think how it will look in a five to ten years' time. However, even that, seemingly perfect, skin is in need of competent preventive care.
Environmental pollution, fast-paced big city life, unhealthy food, makeup (often left on for the night), exhaustion, sleep debt, hours spent at the computer, etc. are all factors that affect the condition of teenage skin.
Thorough care from a young age on and careful selection of cosmetics are required for keeping skin healthy and prolonging its youth.
Products line Belita Young