Eye Rejuvenation Serum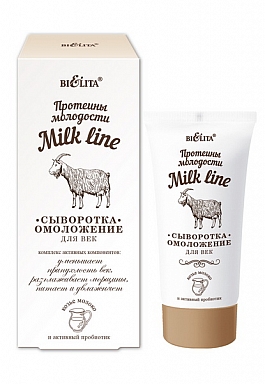 The rejuvenating serum has a light, silky texture, and can be absorbed instantly, leaving a sensation of comfort. A complex of high-performing components provides anti-aging care for the delicate skin around the eyes, smoothes wrinkles, and helps reduce eye puffiness and dark circles.


Goat milk proteins — enriched with vitamins, minerals and nutrients — rejuvenate, hydrate and soften skin, leaving it soft and silky.

Active probiotic, derived from lactic bacteria, improves the resistance of the skin barrier, restores and preserves the natural balance of the skin microflora, and enhances skin immunity.

TONISKIN® promotes collagen synthesis, smoothes wrinkles and evens out complexion. Lends freshness and natural glow to skin.

The complex of vitamins A, C, E and F has high antioxidant activity and enhances cell regeneration, helping skin regenerate quicker and look younger.

Green tea extract stimulates microcirculation within your skin, and helps to reduce eye puffiness and dark circles.

Brend: Belita
Volume: 30 ml
Buy