Day Facial Radiance Cream for All Skin Types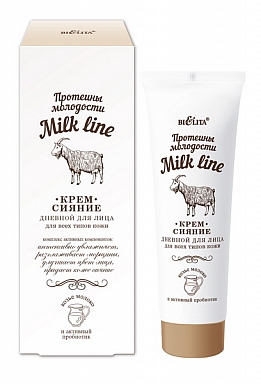 The radiance cream contains goat milk and active probiotic, providing your skin with the nourishment and hydration it needs, smoothes wrinkles, stimulates cells to regenerate intensively and prevents skin aging. The ingredient vitamins and natural antioxidants light up your complexion, and instantly transform your skin, restoring its magnetic, shiny appearance.


Goat milk proteins — enriched with vitamins, minerals and nutrients — rejuvenate, hydrate and soften skin, leaving it soft and silky.

Active probiotic, derived from lactic bacteria, improves the resistance of the skin barrier, restores and preserves the natural balance of the skin microflora, and enhances skin immunity.

TONISKIN® promotes collagen synthesis, smoothes wrinkles and evens out complexion. Lends freshness and natural glow to tired skin.

The complex of vitamins A, C, E and F has high antioxidant activity and enhances cell regeneration, helping skin regenerate quicker and look younger.

Ginger and green tea extracts tonify and hydrate skin.
Coconut oil nourishes skin, adding firmness and elasticity.

Brend: Belita
Volume: 50 ml
Buy