Light Facial Scrub with Lactic Acid for All Skin Types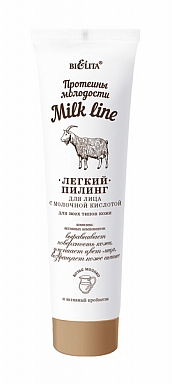 The light peel contains lactic acid, gently cleanses skin, removes dead skin cells and tightens pores. Regular use gives your skin fresh, immaculate cleanness, and radiance.

Goat milk proteins, combined with active probiotic, nourish and soften skin, leaving it soft and silky.

TONISKIN® promotes collagen synthesis, smoothes wrinkles and evens out complexion.

The complex of vitamins A, C, E and F has high antioxidant activity and enhances cell regeneration, helping skin regenerate quicker and look younger.

Coconut oil restores and nourishes skin.


Brend: Belita
Volume: 100 ml
Buy