Shaving Cream with Active Charcoal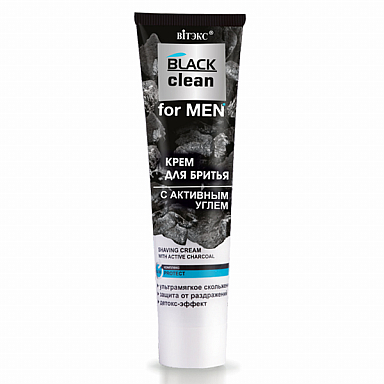 GlideProtect complex
- ultra soft glide
- protection against irritations
- detox effect
The special formula of the cream is developed taking into account the characteristics of men's skin. The cascade of effective components (active black charcoal, GlideProtect complex, natural aloe vera gel) simultaneously works in 3 directions for a comfortable shave:
1. Greatly softens even the toughest bristles, provides ultra-soft glide;
2. forms a special protective layer on the skin, which protects the skin from cuts, irritations and overdrying;
3. It has a detox effect, soothes the skin, and prevents inflammation and redness.
The result: a quick, comfortable shave and smooth, soft, moisturized skin.
Brend: Vitex
Volume: 100 ml
Barcode: 4810153030535
Composition: Aqua (Water), Stearic Acid, Myristic Acid, Potassium Hydroxide, Glycerin, Caprylic/Capric Triglyceride, Sodium Lauroyl Sarcosinate, Sodium Laureth Sulfate, Triethanolamine, Parfum (Fragrance), Methylparaben, Aloe Barbadensis (Aloe Vera) Leaf Juice, CI 77266 (Carbon), PEG-14M, Propylparaben, Hexyl Cinnamal
Buy