Facial Meso Serum 50+ COMPREHENSIVE REJUVENATION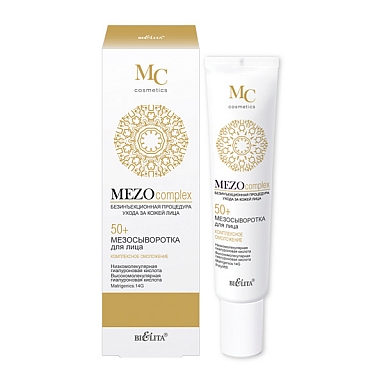 The mesoserum efficiently smooths the wrinkles within the beauty triangle, provides a pronounced lift effect, improves your complexion, and intensively nourishes your skin with moisture, while providing a dual hydration effect: on the surface and inside, and increasing synthesis of collagen, elastin and hyaluronic acid.
Matrigenics.14G activates the 14 genes involved in synthesis of collagen, elastin and hyaluronic acid, restores the beauty triangle, reduces wrinkles on the forehead, nasolabial folds, and wrinkles around the lips. Polylift® provides a lift effect, makes your skin firm, smoothes its microrelief and reduces wrinkles. Thanks to its small size, low-molecular hyaluronic acid penetrates deep into your skin and acts upon it from within, where it encourages synthesis of natural collagen and elastin, promotes generation of natural hyaluronic acid, provides an instant lift effect, and reduces wrinkle depth. High-molecular hyaluronic acid efficiently moisturizes upper skin layers, creates an ideal environment for the serum's active ingredients to penetrate the deeper levels, increases skin firmness and tightness, and makes wrinkles and lines less pronounced.
Three ways to use the mesoserum:
Application 1
: apply mesoserum on clean facial skin, do not rinse. In winter, apply 30 to 40 minutes before going outside.
Application 2
: apply small amount of mesocream (mesomask) on palm, add small amount of mesoserum, mix thoroughly, apply on clean facial skin.
Application 3
: apply mesoserum on face, then roll over each region: forehead, between eyebrows, cheeks, nose, chin, and neck, with home mesoroller vertically, horizontally and diagonally-5 to 10 times in each direction. Very carefully apply to area around eyes, temples and upper lip. Apply mesoserum again.
Brend: Belita
Volume: 20 ml
Buy