VITEX HOME Active Clog Remover Gel for Pipes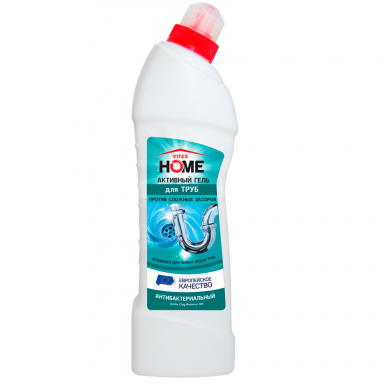 The active formula quickly removes blockages by dissolving food residues, hair, grease and soap deposits in all types of pipes in bathtubs, sinks, showers, toilets, swimming pools, etc. Has a disinfecting and antibacterial effect, eliminates unpleasant odors.
Due to its liquid form and thick consistency, the agent does not provoke deterioration of the blockage and works effectively even under water.
Chlorine free.
Without smell.
Safe for all types of pipes.
Directions:
press the smooth spot on the cap and unscrew it counterclockwise. Carefully pour 250 ml of the product into the drain hole, leave for 1-2 hours, rinse with a strong stream of water. In the case of long lines or stubborn blockages, leave the product overnight.
Precautions: keep away from food and out of the reach of children. To avoid contact with eyes and skin, in case of contact with eyes, rinse with plenty of water and consult a doctor. If swallowed, seek medical advice immediately and show the label. Use rubber gloves when working with the product. Not mix with other products.
Brend: Vitex
Volume: 750 ml
Barcode: 4810153036575
Composition:
Aqua, 15 - 30 % sodium hydroxide.
Buy