VITEX HOME Micellar dishwashing gel (pure formula)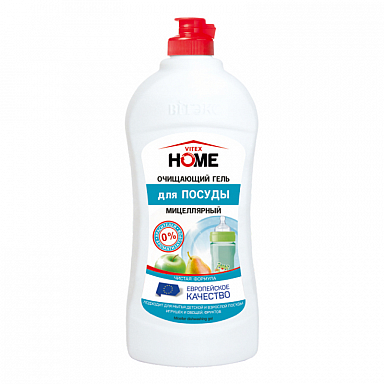 Micellar Dishwashing Gel is an environmentally friendly product that effectively and accurately cleans adult and children's dishes, and is also suitable for toys, fruits and vegetables:
· A modern cleaning and degreasing system quickly breaks down contaminants of various origins (food residues, grease, traces of paraffin and wax, etc.)
· Micellar formula thoroughly washes dishes and toys (including wood, plastic, metal, etc.)
· Rinses off easily and without residue, leaving no streaks
· Works effectively even in cold and hard water
· Does not contain fragrances, dyes, phosphates, solvents, petrochemical products and other aggressive components
· Does not irritate or dry the skin of the hands

Directions: Apply 1-2 drops of the product to a damp sponge, wash the dishes and rinse under running water or dissolve 1 teaspoon of the product in 5 liters of water, wash the dishes, rinse with water. To wash children's toys, vegetables and fruits, dissolve 1/2 teaspoon of the product in 5 liters of water, wash toys, vegetables or fruits, rinse thoroughly with water. Add detergent as needed according to the amount of dishes, type and degree of soiling.
Brend: Vitex
Volume: 500 ml
Barcode: 4810153037466
Composition:
Aqua (Water), 5 - 15 % Nonionic Surfactants, <5 % Amphoteric Surfactants, <5 % Anionic Surfactants, Benzyl Alcohol, Methylchloroisothiazolinone, Methylisothiazolinone.
Buy