VITEX HOME Concentrated Delicate Laundry Gel for SILK and WOOL laundry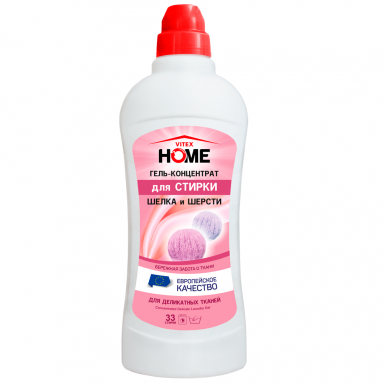 for DELICATE FABRICS
Concentrated gel is a modern product with a specially developed formula for washing delicate fabrics - WOOL, SILK, etc.
Suitable for washing machines of any type and hand washing in water of any hardness
· Possesses high detergency even at low temperatures (from 20 ° C)
· Effectively removes stains and dirt, including complex ones (soot, oil, blood, chocolate, grass, coffee, red wine, cosmetics, etc.)
· Protects fabric from deformation, keeps fine fibers soft
· Allows you to keep the color of the fabric wash after wash, prevents color washout
· Washed from fabric fibers 100%
· Protects the heating elements of the washing machine from lime deposits
Economical to use (1 l = 33 washes).
Does not contain chlorine, phosphates, bleaches or clarifiers.
Directions: use the dosing cap and pour the detergent into the detergent drawer or directly into the washing machine drum according to the recommended dosage. When choosing the washing mode and temperature, follow the recommendations indicated on the labels of the clothes.
One cap = 35 ml
Brend: Vitex
Volume: 1000 ml
Barcode: 4810153036759
Composition:
Aqua (Water), 5 - 15 % Anionic Surfactants, 5-15 % Nonionic Surfactants, <5 % Amphoteric Surfactants, < 5 % Phosphonates, Aroma, Functional additives, Benzyl Alcohol, Methylchloroisothiazolinone, Methylisothiazolinone, Colorants.
Buy