VITEX HOME Balinese Flower and Sea Minerals Fabric Conditioner with Smoothing Particles and Antistatic Effect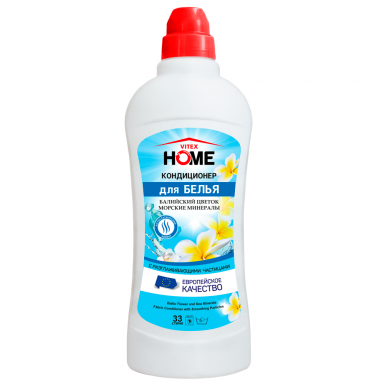 WITH SMOOTHING PARTICLES
Fabric softener with exclusive smoothing particles is a multifunctional product that not only gives your laundry a pleasant aroma, but also takes care of the fabric.
· Helps to maintain the freshness of freshly washed laundry for a long time
· Protects clothing from 3 signs of wear: deformation of the fabric, loss of color, pilling
· Gives fabric softness
· Rinses out completely
· Facilitates ironing
· Has an antistatic effect
The exquisite fragrance of a Balinese flower, which has opened its delicate petals towards the rising sun in the most beautiful bay of an exotic island, mixes with the cool freshness of clear sea water and gives the linen a delicate unobtrusive aroma.
Directions:
use the dosage cap and pour the fabric softener into the appropriate compartment of the washing machine according to the recommended dosage.
One cap = 35 ml
Hand wash: 30 ml of fabric softener per 10 liters of water.
Machine wash: 4-5 kg ​​of linen - 35 ml (freshness and softness), 4-5 kg ​​of linen - 50 ml (extra freshness and softness), 6-8 kg of linen - 70 ml (extra freshness and softness).
Brend: Vitex
Volume: 1000 ml
Barcode: 4810153036773
Composition:
Aqua (Water), 5 - 15 % Cationic Surfactants, Silicone emulsion < 5 %, Aroma, Benzyl Alcohol, Methylchloroisothiazolinone, Methylisothiazolinone, Benzyl benzoate, Colorant.
Buy