VITEX HOME Concentrated Baby Laundry Gel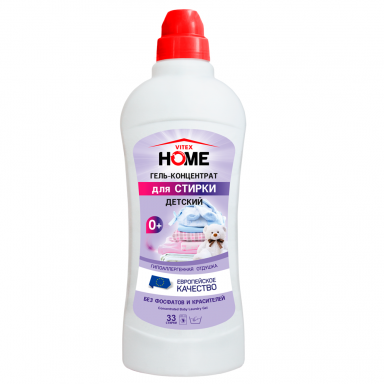 HYPOALLERGENIC Fragrance

WITHOUT PHOSPHATES AND DYES
Concentrated gel is specially designed for washing CHILDREN'S LINEN from the first days of life, as well as washing clothes of people with sensitive skin.
· Suitable for washing machines of any type and hand washing in water of any hardness

· Effectively removes specific "baby" stains and dirt, including complex ones (juice, oil, blood, chocolate, grass, berries, fruits, etc.) even at low temperatures (from 20 ° C)
· Suitable for washing white and colored items
· Contains natural detergents

· Has a neutral scent
· Washed from fabric fibers 100%
· Protects the heating elements of the washing machine from lime deposits
Economical to use (1 l = 33 washes).
Does not contain chlorine, phosphates and dyes.

Directions: use the dosing cap and pour the detergent into the detergent drawer or directly into the washing machine drum according to the recommended dosage. When choosing the washing mode and temperature, follow the recommendations indicated on the labels of the clothes.

One cap = 35 ml
Brend: Vitex
Volume: 1000 ml
Barcode: 4810153036742
Composition:
Aqua (Water), 5 - 15 % Anionic Surfactants, 5-15 % Nonionic Surfactants, <5 % Amphoteric Surfactants, Protease, Amylase, Aroma, Benzyl Alcohol, Methylchloroisothiazolinone, Methylisothiazolinone, Сhamomile extract.
Buy