VITEX HOME Gentle Hands Dishwashing Balm with Glycerin, Aloe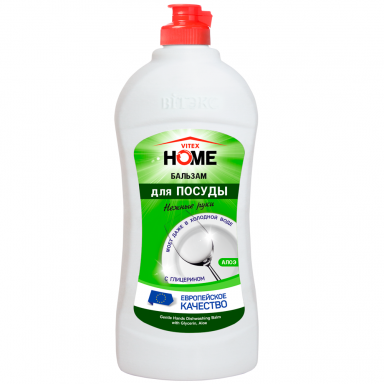 Dishwashing balm not only perfectly cleans dishes from grease and other impurities, but also is very gentle on the skin of your hands. The modern formula contains natural aloe vera gel and glycerin, due to which it has a moisturizing, softening, regenerating and soothing effect on the skin.
The gel contains effective and at the same time very soft for the skin washing components, so it does not dry out or irritate the skin of the hands. It is easily washed off without residue and does not require copious rinsing of the dishes with water.
Directions: apply 1-2 drops of the product to a damp sponge, wash dishes and rinse under running water or dissolve 1 teaspoon means in 5 liters of water, wash dishes, rinse with water. Add remedy as required according to the amount of dishes, type and degree pollution.
Brend: Vitex
Volume: 500 ml
Barcode: 4810153036698
Composition:
Aqua (Water), 5 - 15 % Anionic Surfactants, 5 - 15 % Nonionic Surfactants, <5 % Amphoteric Surfactants, Aroma, Glycerin, Disodium EDTA, Benzyl Alcohol, Methylchloroisothiazolinone, Methylisothiazolinone, Aloe Vera Gel, Colorants.
Buy