VITEX HOME Golden Jasmine and Citrus Water Fabric Conditioner with Smoothing Particles and Antistatic Effect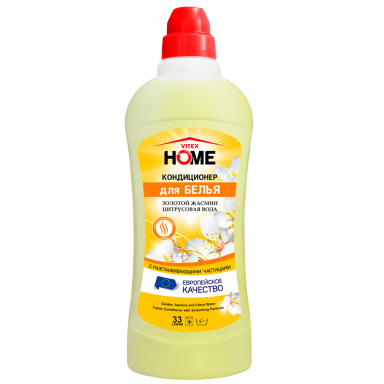 WITH SMOOTHING PARTICLES
Fabric softener with exclusive smoothing particles is a multifunctional product that not only gives your laundry a pleasant aroma, but also takes care of the fabric.
· Helps to maintain the freshness of freshly washed laundry for a long time
· Protects clothing from 3 signs of wear: deformation of the fabric, loss of color, pilling
· Gives fabric softness
· Rinses out completely
· Facilitates ironing
· Has an antistatic effect
The luxurious scent of golden jasmine intertwines with the sparkling freshness of citrus water and fills the linen with an amazing aroma.
Directions: use the dosage cap and pour the fabric softener into the appropriate compartment of the washing machine according to the recommended dosage.
One cap = 35 ml
Hand wash: 30 ml of fabric softener per 10 liters of water.
Machine wash: 4-5 kg ​​of linen - 35 ml (freshness and softness), 4-5 kg ​​of linen - 50 ml (extra freshness and softness), 6-8 kg of linen - 70 ml (extra freshness and softness).
Brend: Vitex
Volume: 1000 ml
Barcode: 4810153036780
Composition:
Aqua (Water), 5 - 15 % Cationic Surfactants, Silicone emulsion < 5 %, Aroma, Benzyl Alcohol, Methylchloroisothiazolinone, Methylisothiazolinone, Butylphenyl methylpropional, Colorant.
Buy