VITEX HOME Cleaning spray for SHOWER CABINS and ACRYLIC BATHS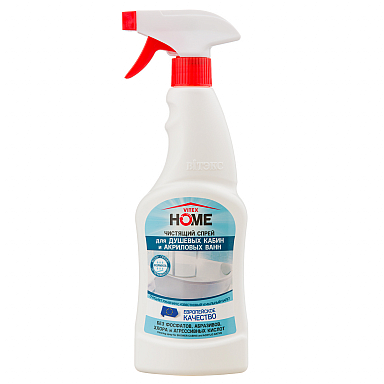 CLEANSES RUST, LIME AND SOAP
The cleaning spray is intended for cleaning shower cabins, acrylic and enamel bathtubs, sinks, tiles, taps and faucets, as well as surfaces made of plastic, chrome and nickel. The active formula perfectly removes rust, limescale and soap deposits, stubborn dirt and other difficult stains. Special protective components form an invisible film on the surface that repels water and dirt and gives surfaces a streak-free shine.
Free of phosphates, abrasives, chlorine and corrosive acids.
Directions: apply to the surface, wipe with a napkin or sponge, rinse with water. In case of heavy contamination, leave for a few minutes to act.
It is recommended to use rubber gloves when working with the product.
Precautions: store separately from food and out of the reach of children. Avoid contact with eyes, in case of contact with eyes, rinse with plenty of water. Before using on unknown surfaces, first try the product on an inconspicuous area.
Brend: Vitex
Volume: 500 ml
Barcode: 500 мл
Composition:
Aqua (Water), Citric acid, Isopropyl Alcohol, < 5 % Nonionic Surfactants, Phosphonates, Functional additives, Benzyl Alcohol, Methylchloroisothiazolinone, Methylisothiazolinone.
Buy