VITEX HOME Active STAIN REMOVER for CARPETS and UPHOLSTERY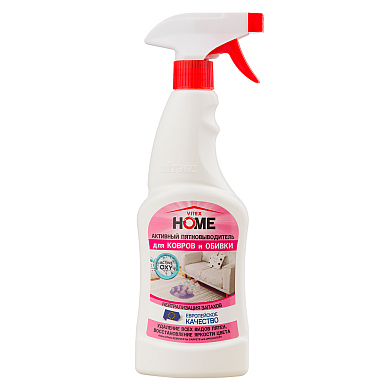 ODOR NEUTRALIZATION
REMOVING ALL KINDS OF SPOTS,
RESTORING THE BRIGHTNESS OF COLOR
The stain remover is intended for manual cleaning of carpets, floor carpets, upholstery of upholstered furniture, textile upholstery of walls, etc. The formula with active oxygen quickly and effectively removes grease, dust, grease, stains from nicotine, chocolate, coffee, berries, juice, felt-tip pens, children's food, ballpoint pen and other difficult dirt. Neutralizes unpleasant odors, including from pets. Retains and refreshes the color of the fabric, does not leave streaks.
Suitable for both synthetic and natural materials. Can be used to clean upholstery fabrics on chairs, office chairs, car seats.
Directions: apply on the surface for 5-10 minutes, rub thoroughly with a damp sponge, remove residues. Repeat the procedure if necessary.
It is recommended to use rubber gloves when working with the product.
Precautions: store separately from food and out of the reach of children. Avoid contact with eyes, in case of contact with eyes, rinse with plenty of water. Do not use for cleaning leather, wool, velvet, brocade and silk. Before using on surfaces unknown
like try the product on an inconspicuous area first.
Brend: Vitex
Volume: 500 ml
Barcode: 4810153037060
Composition:
Aqua (Water), 15-30 % hydrogen peroxide, < 5 % Nonionic Surfactants, phosphonates, Dipropylene glycol monomethyl ether, Functional additives, Benzyl Alcohol, Methylchloroisothiazolinone, Methylisothiazolinone.
Buy