VITEX HOME Universal Concentrated Laundry Gel (for all types of fabrics)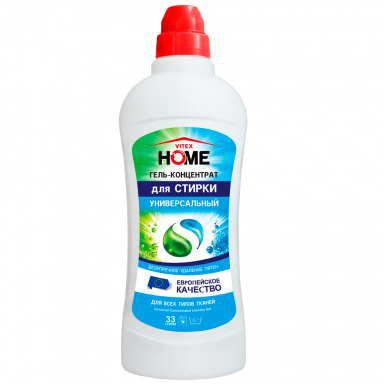 PERFECT STAIN REMOVAL
FOR ALL TYPES OF FABRICS
UNIVERSAL gel concentrate is a highly effective detergent for washing all types of fabrics (except for wool and silk) in washing machines of any type and for hand washing in water of any hardness.
· Possesses high washing ability even at low temperatures (from 20 ° С)
· Effectively removes stains and dirt, including complex ones (soot, oil, blood, chocolate, grass, coffee, red wine, cosmetics, etc.)
· It is gentle on the fabric, maintains its structure, prevents graying
· Prevents the appearance of lint (pellets) on clothes
· Washed from fabric fibers 100%
· Protects the heating elements of the washing machine from lime deposits
Economical to use (1 l = 33 washes).
Chlorine and phosphate free.
Directions: use the dosing cap and pour the detergent into the detergent drawer or directly into the washing machine drum according to the recommended dosage. When choosing the washing mode and temperature, follow the recommendations indicated on the labels of the clothes.
One cap = 35 ml
Brend: Vitex
Volume: 1000 1000
Barcode: 4810153036728
Composition:
Aqua (Water), 5 - 15 % Anionic Surfactants, <5 % Nonionic Surfactants, < 5 % Phosphonates, Protease, Amylase, Aroma, Benzyl Alcohol, Methylchloroisothiazolinone, Methylisothiazolinone, Colorant.
Buy