VITEX HOME Reinforced Formula Anti Grease, Lemon Thick Dishwashing Gel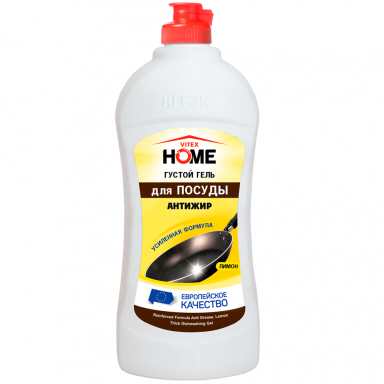 A thick liquid dishwashing gel with a pleasant citrus scent is a modern tool that allows you to quickly and easily clean dishes to a sparkling shine.
The innovative Anti-Fat technology instantly breaks down contaminants of various origins and works effectively even in cold and hard water.
Modern detergent components form a thick, fluffy foam, which helps to easily and quickly wash dishes even in cold and hard water, is completely washed off with water and does not leave streaks.
Fortified formula concentrate makes the gel very economical to use.
Directions: apply 1-2 drops of the product to a damp sponge, wash dishes and rinse under running water or dissolve 1 teaspoon means in 5 liters of water, wash dishes, rinse with water. Add remedy as required according to the amount of dishes, type and degree pollution.
Brend: Vitex
Volume: 500 ml
Barcode: 4810153036681
Composition: Aqua (Water), 5 - 15 % Anionic Surfactants, <5 % Nonionic Surfactants, <5 % Amphoteric Surfactants, Aroma, Disodium EDTA, Benzyl Alcohol, Methylchloroisothiazolinone, Methylisothiazolinone, Geraniol, Limonene, Colorants.
Buy