VITEX HOME Liquid Laundry Soap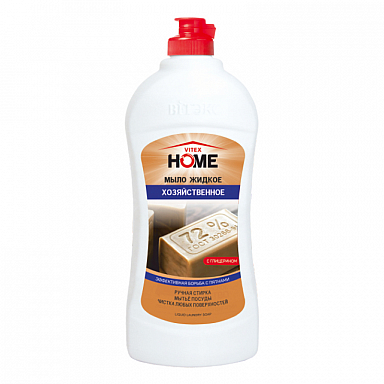 EFFECTIVELY FIGHT STAINS AND POLLUTION
FOR HAND WASH
WASHING DISHES
CLEANING ANY SURFACES
Liquid laundry soap is an effective and safe product for complex cleaning. Quickly and accurately removes dried grease, grease, stubborn stains and other complex stains from various surfaces - glass, fabric, plastic, wood, metal, enamel, leather, etc. Ideal for washing dishes, kitchen utensils, windows, floors, hand washing and soaking linen, washing sports shoes, as well as for degreasing any surfaces.
It is economically consumed. Washes off easily and without residue. Has a neutral scent.
Directions:
For hand washing: dissolve 100 ml of soap in 10 l of water, wash and rinse.
For pre-soaking: dissolve 75 ml of soap in 10 liters of water, soak for 15-20 minutes.
For washing dishes: apply soap to a sponge, wash dishes, rinse with water.

For cleaning surfaces: dissolve 50 ml of soap in 10 liters of water, wash the contaminated surface.
Use soap for hand wash only. Do not use for washing in a washing machine. It is recommended to use rubber gloves when working with the product. Do not use for cleaning aluminum products.
Brend: Vitex
Volume: 500 ml
Barcode: 4810153037497
Composition:
Aqua (Water), 5 - 15 % Anionic Surfactants, <5 % Nonionic Surfactants, <5 % Amphoteric Surfactants, Glycerin, Disodium EDTA, Benzyl Alcohol, Methylchloroisothiazolinone, Methylisothiazolinone, Colorants.
Buy