VITEX HOME SPRAY-REMOVER against MOLD and FUNGUS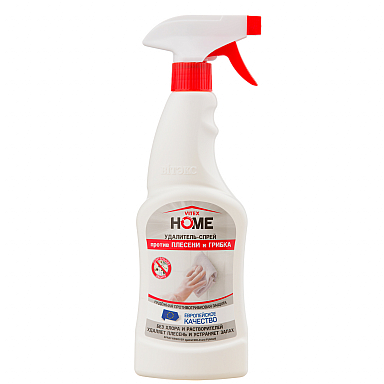 RELIABLE ANTIFUNGAL PROTECTION
NO CHLORINE AND SOLVENTS
REMOVES MOLD AND ELIMINATES ODOR
The active components of the spray quickly penetrate deep into the surface and effectively remove mold, fungus, bacteria. The spray is suitable for faucets, drains, shower heads, wallpaper, plaster, tiles, wood, concrete, brick surfaces, as well as plastic and fabric products. The innovative anti-mold system protects against the reappearance of mold and mildew for a long time.
Does not contain chlorine, does not have a strong odor. Can be used in residential areas.
Directions: apply evenly on the surface for 15-20 minutes. In case of severe damage, leave for 1 hour. Remove dirt with a sponge or brush. Rinse thoroughly. After 15 minutes, repeat the treatment, do not rinse!
Attention! Use rubber gloves when working with the product.
Precautions: store separately from food and out of the reach of children. Avoid contact with eyes and skin, in case of contact with eyes, rinse with plenty of water and seek medical advice. If swallowed, seek medical advice immediately and show the label. Do not mix with other products.
Before using on unknown surfaces first try the product on an inconspicuous area. Do not use on marble and natural stone containing lime.
Brend: Vitex
Volume: 500 ml
Barcode: 4810153037039
Composition:
Aqua (Water), 5-15 % hydrogen peroxide, dodecyldimethylammonium chloride, < 5 % Nonionic Surfactants, Phosphonates.
Buy