VITEX HOME Universal Cleansing Cream for Kitchen and Bathroom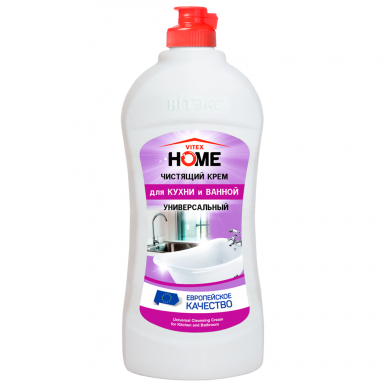 The innovative formula of the universal cream contains microcrystals of white marble of high purity in combination with soda ash, which effectively removes stubborn grease stains, limescale, soap stains and other difficult stains from various surfaces in the kitchen and bathroom:
• in the bathroom (sink, bathtub (including acrylic), ceramic tiles, chrome surfaces, taps, etc.)
• in the kitchen (stove, hob (including glass-ceramic), sink, oven, countertop, skinal, etc.)
The cleaning cream rinses off easily, leaving surfaces shiny and smooth.
Directions: shake well before use. Apply the cream to a damp cloth or surface to be treated, clean the surface, rinse with water.
Precautions: keep away from food and out of the reach of children. Avoid contact with eyes, in case of contact with eyes, rinse with plenty of water. Seek medical attention if necessary. Use rubber gloves when working with the product.
Use the product on hard, moisture-resistant surfaces, as well as surfaces made of aluminum and metallized plastic. When using on delicate surfaces, try the product on an inconspicuous area first.
Brend: Vitex
Volume: 500 ml
Barcode: 4810153036766
Composition:
Aqua (Water), Calcium Carbonate, Soda Ash, < 5 % Nonionic Surfactants, Phenoxyethanol, Metrhylparaben, Ethylparaben, Propylparaben, 2-bromo-2-nitropropane-1,3-diol, Aroma.
Buy